Buildings across India – homes, apartment buildings, office buildings, small workshop complexes (industrial galas), malls, hospitals, schools and other such civil structures have roofs cast in concrete. These roofs are waterproofed using many methods – brick bat coba, chemical waterproofing, wet applied membranes, APP membranes, EPDM membranes, spray applied membranes and so on. The selection of method of waterproofing depends on cost, expected service life, contractor experience, architect specification and finally the choice of developers / builders. Most of the times, these roof terraces are used for housing utilities – water storage tanks, lift systems, air conditioning units, heating units – with limited foot traffic.
With unavailability of skilled labour and demand for faster construction pace, several construction sites, today, suffer from poor workmanship, lack of supervision, resulting in waterproofing problems. Reinforced concrete, to begin with is porous and can have several capillary tracts inside the cast slab. Coupled with lack of skill – poor mixture of chemical system in the concrete or un-supervised addition of integral waterproofing compounds leads to improper waterproofing. Cracks develop over time, leading to water seepage throughout the slab, passing into walls, corroding the steel reinforcements.
GS TPO membranes provide a solid, impenetrable barrier – not allowing water or moisture to pass through, thus protecting the slab and structure below from leakages. The membrane is designed with high puncture and tear resistance, thus ensuring that during construction activity, the membrane remains intact. The installation is simple in comparison to other waterproofing methods. Brick bat coba adds significant weight to the structure and requires long curing period besides building time, in comparison to 10,000 sq ft of roof is covered with TPO membrane within 7 days with a weight of only 1.5 kg/mtr2. Chemical waterproofing method relies on skilled and systematic workmanship – ensuring the correct dosage of chemicals in the admixture, proper uniform application; in comparison, GS TPO membrane is a solid uniform polymeric sheet that is laid either in-situ during slab casting or over the slab, without much skill.
GS TPO membranes are applied on RCC roofs in two ways:
A: Exposed System
The membrane is laid over the slab, backed with a geo-membrane for protection from undulations of the slab. The membrane is mechanically fastened into the slab with 25 mm fasteners, supported by special plugs preventing any water seepage. The areas mechanically fastened are overlapped with adjoining TPO membrane and heat welded, thus making it a fully adhered seamless membrane system.
B: Monolithic In-Situ System
The membrane is fully adhered over the slope screed that is prepared over the slab. Over this membrane, tiles are installed using adhesives, thus creating a solid monolithic membrane structure within the substrate. The membrane used in this system is a proprietary sandwiched membrane system, that adheres to concrete using cementitious adhesives, providing pull strength of over 5N/m2.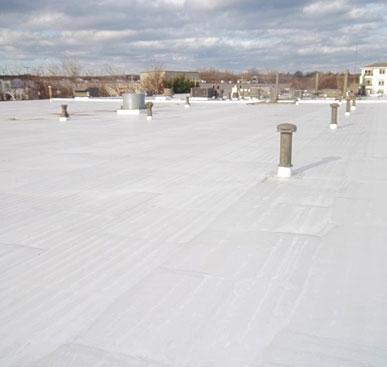 Commercial Building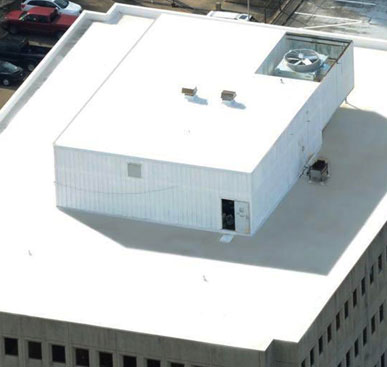 Office Building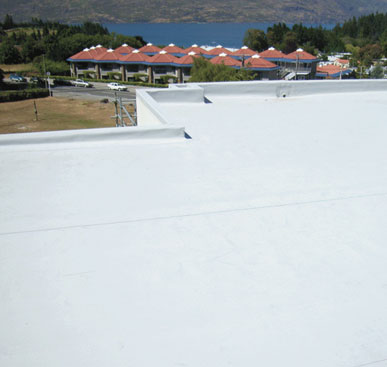 Residential Building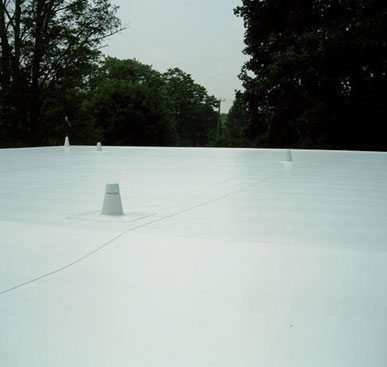 Warehouse
GS TPO Membrane 1.5 RF
20 MM 10 mtr pre-holed strips
25 MM 10 mtr pre-holed grip strips
25 MM fasteners with Nylon washer plugs