Today, builders and developers, incorporate landscaped basements and podiums in their projects. These help in larger utilisation of space, enhance the aesthetics and quality value of the project. However, these areas also require most attention for proper waterproofing.
Several considerations are critical – deck movement, movement across differential plane, drainage, continuity of waterproofing with expansion joints. Improper waterproofing can cause corrosion related problems to structural elements holding the podium deck in place. Besides this, root penetration resistance needs to be incorporated for vegetated areas, along with resistance to aggressive salts, algae, fungi and bacterial growth.
GS membranes are designed to help provide long term waterproofing to such podium decks and basements, due to it's impermeability, flexibility, heat seal-ability, excellent chemical resistance, root barrier properties, resistance to algae, fungi and bacteria.
Greenshield™ has two types of membranes for podium and basements:
A: TPO Membrane           B: HDPE Membrane
Both systems are designed for embedded installation, making the whole system monolithic with the substrate.
TPO Membrane is supplied with fleece backing, allowing adherence with poured concrete, whereas HDPE membrane is supplied with fleece backing, or PSA with release liner or PSA with sand finish – all providing excellent adhesion with poured concrete, while remaining protected from tears and puncture from the raft on top. Fleece backed membranes provided added benefit of directly anchoring onto the concrete, leaving no chance for delamination of adhesive system that may occur due to water ingress between membrane and concrete. These membranes provide an impermeable barrier layer, perfectly isolating the top surface from the bottom surface, not allowing any water seepage.
A: Horizontal Surface
GS membranes are designed to be easy for installation either on new areas or existing areas. The base substrate must be free from undulations, cavities and projections. Cracks, surface defects must be addressed prior to installation. After substrate is readied, membranes are rolled out onto the surface, allowed to rest for 30 mins. Edges are heat laminated to each other and corners are terminated adhered to the concrete.
B: Vertical Surfaces
Membrane is secured mechanically, where working space is limited, especially where retaining wall is abutting the shored or piled surfaces. Where there is working space, membrane is adhered using cementitious adhesive to bottom layer – ensure monolithic bonding, compared to acrylic based PSA.
For complete details, refer to our details installation guide, that provides drawings and sectional images for better understanding. Contact us to know more.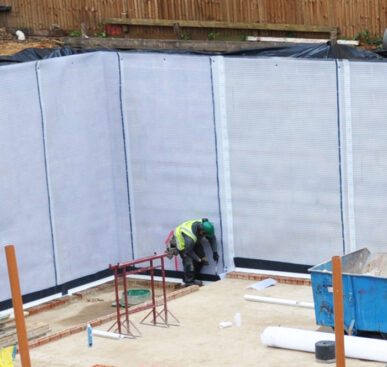 Basement Waterproofing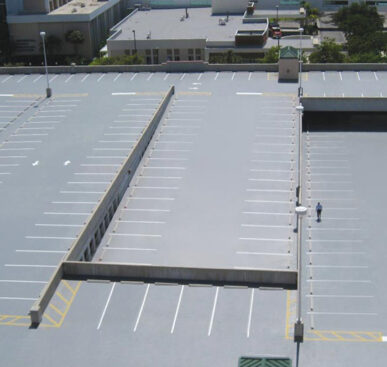 Waterproofing System Applied Car Park Deck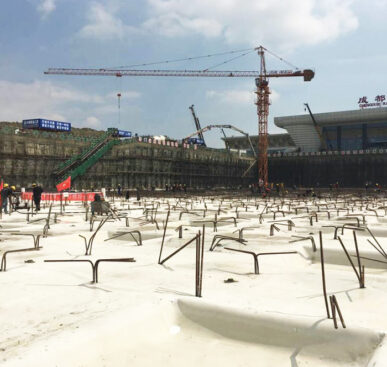 Podium Waterproofing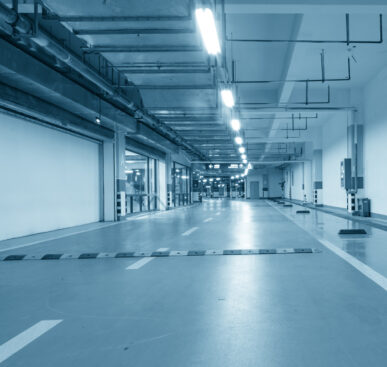 Waterproofing
GS PE PSA
GS PE RF BG S
GS PE PSA SAND