GreenShield™ HDPE Membranes are based on high-density polyethylene material, designed to provide water and water vapour protection to water excluding structures, securing concrete from aggressive ground salts and chemicals related corrosion.
We manufacture and supply two types of HDPE membranes: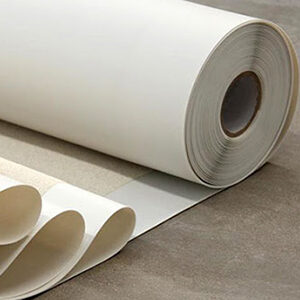 GS PE PSA
HDPE membrane with pre-applied pressure sensitive adhesive with either liner or sand finish, which bonds integrally to poured concrete, remaining in place in case of settlement of substrate. The edges are heat-welded or adhered using double sided adhesive tape, creating a complete impermeable layer between the lower PCC / Compacted surface and upper concrete substrate.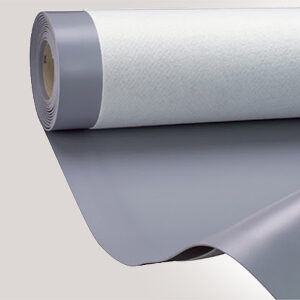 GS PE RF BG (S)
One side fleece backed, reinforced HDPE membrane, which bonds to poured concrete, creating a monolithic impermeable membrane with the substrate. The poured concrete, flows into the fleece web structure, creating a network of strong bond to the membrane, preventing any water ingress between membrane and substrate. Edges are heat welded to create a complete impermeable layer. For vertical applications, GS PE RF BG (S), works well with post applied high performance adhesive.
Both type of membranes, create a continuous bond to poured concrete, unaffected by ground settlement. The membrane acts as an impermeable barrier to water, moisture and gas while providing good puncture resistance during placement of reinforcement bars. The membrane is inert and is resistant to chemicals, acids, bases, alkalis and salts – providing excellent corrosion resistance. Suitable across applications:
Basements
Podiums
Parking Areas
Retention Walls
RC Members
Tunnels, Underpasses & Culverts
Water Retaining Structures
Sewage Treatment Plants
Underground Metro Stations
Service Rooms
Pier & Harbour protection
Based on high density polyethylene
Manufactured with fleece back or with pressure sensitive adhesive available in plain and sand finish
Suitable for podium and basement waterproofing on vertical and horizontal surfaces
The membranes are manufactured in widths up to 1.2 meters, in thickness of 1.2, 1.5 and 1.8 mm, supplied in roll form.
Provides vapour barrier and waterproofing in building and civil engineering structures
Forms an integral bond to poured concrete
Simple application – no primers or protection material required
Inert product – no risk of a reaction with chemicals and ponded waste
 Flexible across wide temperatures – 40°C to 110°C.
 Lightweight at < 1.5 kg / sq mtr