Accessories are critical to the installation of the TPO roofing system. While the membrane provides protection to the roof, the accessories ensure complete coverage of cut-outs, drain outlets, covering installation of utilities over the roof.
Roof Drains & Flexible Collars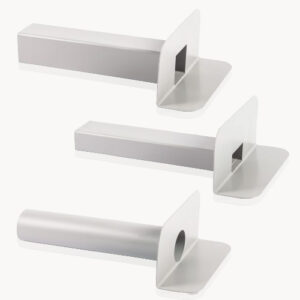 Suitable for connecting protruding pipes with the TPO waterproofing membranes. The flexible collar has a truncated body of variable diameters firmly attached to a large surfaced flange.
Internal & External Corners
Flashing & Edge Strips
Termination Bars
Screws, Fasteners & Washers
TPO Walkways & Yellow Pathway Marker Tapes
Tube Wraps
Skylight Transparent Sheets