Green Roofs and Balconies, provide the much-needed green space in our ever-increasing concrete jungle. Besides being aesthetically appealing, green roofs address issues around rainwater absorption v / s run-offs and roof insulation. It provides habitat to wildlife, helps reduce stress levels of people around it, lowers urban air temperatures and helps mitigate Urban Heat Island Effect (UHIE) in cities.
Urban Heat Island Effect (UHIE) is a growing concern in our burgeoning cities. As populations migrate from rural to urban areas for better opportunities and life, there is an increased pressure on infrastructure of the city. There is need for more residential and commercial buildings, factories, transportation hubs, wider roads, utilities and so on – all of which changes the city landscape with more impermeable surfaces of concrete, asphalt, glass and steel – replacing vegetation, greenery, trees and open land. This leads to heat absorption within cities – making it hotter than surrounding rural areas.
The only way to cool down our cities is to increase the evapotranspiration effect by increasing the green cover. Rooftops of buildings cover almost 60% of the city surface, providing a large opportunity of creating green roofs, podiums, balconies.
GreenShield™ range of TPO membranes are solid, impermeable, root resistant membranes, that easily allow the creation of such green oasis within our buildings at a low cost, without the need to worry about water leakages.
GS TPO membranes provide a firm barrier between the concrete structure and the soil ensuring that water, acids, alkalis, fungi, bacteria and roots do not affect the structure beneath. Besides this, strong puncture and tear resistance properties of the membrane ensure plant, tree and shrub roots do not penetrate the concrete structure or create any cracks. The non-permeable property of the membrane prevents water from percolating through while also ensuring moisture retention within the soil.
A: Horizontal  /  Flat Garden
GreenShield membranes are designed to be easy for installation either on new areas or existing areas.
The base substrate can be either concrete with top screed or PEB with an appropriate slope for water drain. GS Membrane is installed over this substrate, either mechanically or fully adhered. This becomes the main waterproofing layer. Drain boards are laid over this, followed by a layer of geotextile felt, followed by soil / growth medium and then vegetation. The drain board and geotextile layer ensure soil remains in place and excess water drains below onto the TPO. The TPO, in turn, would allow the water to move off into drain pipe.
B: Vertical Garden
The membrane system is designed to be applied on vertical walls for vertical gardens as well. The membrane is simply installed behind the complete vertical garden system, where specific attention is given to terminations.
For complete details, refer to our details installation guide, that provides drawings and sectional images for better understanding. Contact us to know more.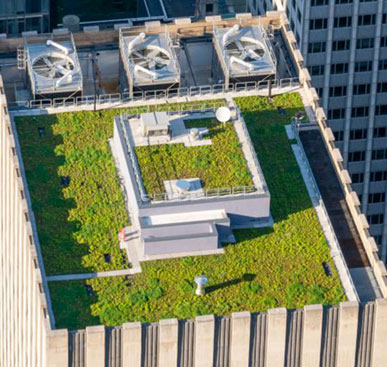 Office Building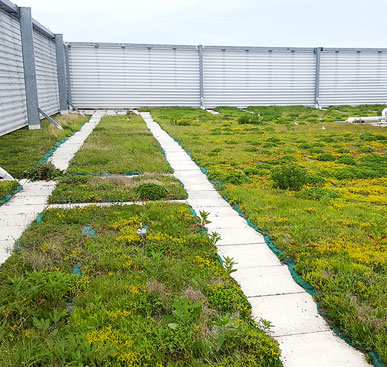 Commercial Building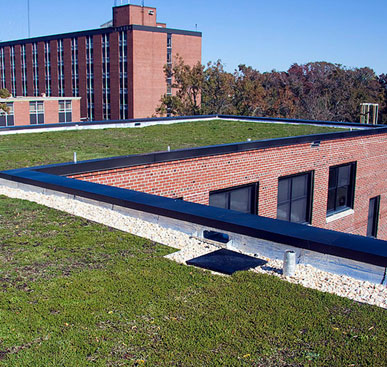 School Building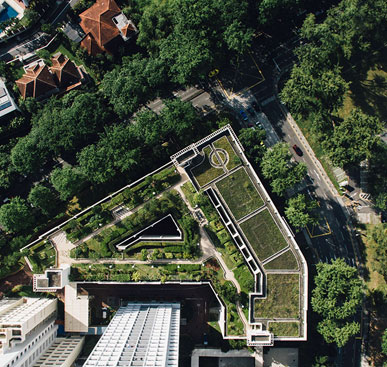 Residential Building
GS TPO Membrane 1.5 RF
GS Fasteners
GS Washer Plates
GS Installation Strip
GS Grip Strip